Last year marked a significant turning point in my career as I bravely stepped away from the familiar walls of a traditional office and embarked on an exciting venture into the dynamic realm of WeWork—a thriving co-working space that has completely transformed my remote working experience. Becoming a proud member of #WeworkBangalore on February 3rd, 2019, has been a decision I will forever cherish, for it has opened up a world of possibilities and profoundly impacted my professional journey in countless ways.
An Ecosystem of Innovation & Collaboration
From the moment I first set foot into the bustling WeWork community, I was captivated by the vibrant energy and the diverse range of individuals shaping their dreams within its walls. The collaborative atmosphere, filled with like-minded professionals driven by ambition, has fostered an environment where innovation thrives and ideas flourish. It is within this dynamic ecosystem that I have found my true sense of belonging, surrounded by fellow dreamers and doers who inspire and motivate me to reach new heights.
Leading Provider of Shared Workspaces
Founded in 2010, WeWork has established itself as a leading provider of shared workspaces for startups, freelancers, and entrepreneurs. With a global presence spanning over 91 locations, their commitment to fostering a community-driven atmosphere has proven instrumental in cultivating a thriving ecosystem of innovation and collaboration.
Exceptional Networking Opportunities
One of the most remarkable aspects of working at WeWork has been the exceptional networking opportunities it offers. Surrounded by like-minded individuals, I have had the privilege of connecting with inspiring professionals from diverse backgrounds, sharing ideas, and forging valuable partnerships. Whether through casual conversations in the vibrant common areas or engaging in thought-provoking discussions during community events, It has facilitated meaningful connections that have significantly expanded my professional network.
The speciality of WeWork Locations
Beyond the exceptional networking and freelance opportunities, they have created an energizing and aesthetically pleasing work environment. Each location boasts beautifully designed buildings and well-appointed common areas that inspire creativity and productivity. The carefully curated spaces, coupled with the bustling atmosphere of ambitious professionals, create an atmosphere conducive to innovation and growth.
Enriching Community Experiences: Engaging Events & Activities
In addition to the physical infrastructure, WeWork hosts a myriad of engaging events and activities that further enrich the community experience. From workshops and panel discussions to yoga sessions and networking nights, there is always something exciting happening all the time. These events not only foster personal and professional growth but also provide a platform for connecting with fellow members, discovering new ideas, and gaining valuable insights from industry experts.
Embracing Pets in the Workplace: Pet-Friendly Policy Creates a Joyful & Inclusive Workspace
WeWork's commitment to inclusivity extends even further, as they embrace the unique bond between humans and their furry companions. They have a pet-friendly policy that allows members to bring their beloved pets to the workspace, adding an extra touch of warmth and joy to the environment.
A Transformative Journey Fueled by Growth, Collaboration, & Fulfillment
Being a part of the community has truly been a transformative experience. From the exceptional networking opportunities to the inspiring work environment and the abundance of engaging events, It has surpassed my expectations in every aspect. It has become more than just a workspace; it is a thriving ecosystem that fosters growth, collaboration, and personal fulfilment.
What makes being a part of the WeWork community so special?
Let me share a few reasons why I absolutely adore it:
Flexibility to Work Anywhere
As a WeWork member, I have the freedom to work from any of their 91 locations. With just a few clicks on the member app, I can book a spot in advance. This means I get to experience new and inspiring workspaces each month, keeping my enthusiasm and creativity high. Plus, I receive 2 credits to book spaces, making it even more exciting.
Inspiring Architecture and Vibrant Common Areas
Every WeWork building is thoughtfully designed with stunning architecture. I'm constantly amazed at how they manage to maintain consistent design aesthetics across all their office spaces. The common areas and cafeterias are my favourite spots to connect with fellow WeWorkers over a cup of coffee. In just a couple of days, I have already met incredible and like-minded individuals who have expanded my network.
Engaging Community Managers
WeWork's community managers are simply amazing. They work tirelessly to ensure that every member's needs are met, from providing a daily cup of coffee to making sure the beer taps never run dry. Approachable and friendly, these managers are always available to assist with anything, from Wi-Fi issues to restroom maintenance. And yes, most of them are incredibly good-looking too!
Exciting Weekly Events
WeWork keeps the community buzzing with a variety of interesting events every week. From yoga sessions to massages and even events hosted by fellow WeWorkers, there's always something intriguing happening. These events provide fantastic opportunities to meet new faces, foster connections, and gain fresh perspectives.
Pet-Friendly Environment
One unique aspect of WeWork is its embrace of the #DoWhatYouLove mantra, allowing members to bring their beloved pets to work. It's heartwarming to see furry companions accompanying their owners, adding an extra touch of joy and making the workspace even more lively. Where else can you find such a pet-friendly work environment?
Free Beers (with limits)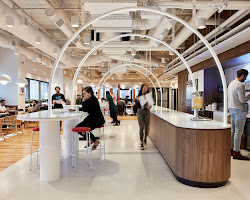 WeWork has a renowned unlimited beer policy, giving members the freedom to enjoy a refreshing drink. However, they recently introduced a new program that limits each member to four glasses of beer. Despite the change, it's still a fantastic perk that adds a touch of relaxation and camaraderie to the work environment.
Unlocking the Power of the WeWork Community
Having experienced the incredible benefits of being a WeWork member firsthand, I can't help but feel a sense of excitement and enthusiasm about what this dynamic community has to offer. The WeWork experience goes beyond just having a workspace; it's about being part of a thriving ecosystem that encourages collaboration, growth, and personal fulfilment.
WeWork Community App: A Hub for Idea-Sharing, Networking, and Connection
One of the aspects that truly sets WeWork apart is its community app. This powerful tool serves as a hub for idea-sharing, networking, and connecting with fellow members. Whether you're looking for potential collaborators, seeking advice from industry experts, or simply wanting to expand your professional network, the community app provides a seamless platform to facilitate these interactions. It's incredible to witness the diverse range of talents and expertise within the WeWork community, and the app makes it easy to tap into this wealth of knowledge and resources.
WeWork: The Perfect Space for Startups and Freelance Workers
If you're searching for a new office space for your startup or looking to enhance your freelance work, I wholeheartedly recommend exploring the nearest WeWork location. With over 91 locations worldwide, there's bound to be one that suits your needs and preferences. By becoming a WeWork member, you not only gain access to a beautifully designed workspace but also unlock a world of opportunities for collaboration, inspiration, and personal and professional growth.
Embrace a New Era of Remote Working with WeWork
To join the WeWork community, simply sign up for membership through the provided link. Once you become a member, you'll experience firsthand the power of collaboration and the joy of working in a supportive and inspiring environment. The possibilities are endless, and I can't wait to see how WeWork transforms your remote working experience and propels you towards success.